10 Fashion Trends to lookout for this Wedding Season
Everything has to be absolutely perfect on the wedding day- the perfect guy, a gorgeous wedding dress, flawless make up, and dazzling jewelry are all parts of a dream wedding, because she has to look like a princess on her D Day. Here are 10 bridal trends that are stealing every bride-to-be's heart this wedding season. Read on to find out tips to make your wedding as magical as it could be!
Bronzed Eyes and Nude Make-up:
The nude look is pretty popular in the wedding industry right now, along with the bronze eye shadow and winged eyeliner. The minimal make up will be beautifully balance out the wedding look of a bride when put together with heavy jewelry and the dazzling outfit.
The Bride in Pink:
The Indian brides are getting more and more daring and experimental nowadays. Gone are the days when you only used to wear red for the wedding. Look how stunning this light pink and cream lehenga with golden work and thin green hem looks!
Temple Jewelry:
Temple jewelry is something mot south Indian brides opt to don on their wedding days to get that perfect ethnic and classy look. It is simple and elegant will make you look like the queen you aspire to be.
Conventional with a Twist:
This lehenga is a combination of red, orange and pink shades. The netted sleeves, the intricate embroidery and the plain veil crafted in red net makes the bride look as pretty as a picture.
Nail the Perfect Bridal Look:
Why not go the extra mile and make sure your nails look as stunning as the rest of you on your special day. With the nail art trending nowadays, you will be able to find the perfect look to go with your wedding dress!
Ethno-modern Perfection:
Why not embrace your free spirit of the urban-desi girl and flaunt your personal sense of style on your wedding day?
The Perfectly Jeweled Bun:
Now is the era of the messy bridal buns. The brilliantly gorgeous hair pin and the buoyant bun with wisps will make you look like a bridal dream.
The Perfect Wedding Shoes:
Find the perfect pair of heels to make your special day ever more special. Make sure that they are comfortable, stylish and broken into- you don't want to get a shoe bite on your wedding day.
Do Some White Magic: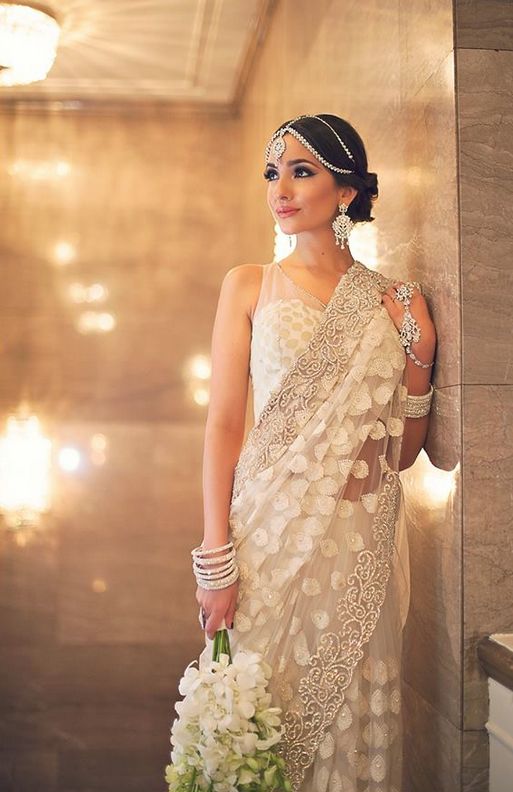 The Indian Christian brides too are getting more and more creative. The high collared, sleeveless blouse, the simple bun and the elaborate pattern on the sari makes her one amazing looking bride.
Indian Bridesmaids:
These days, even Hindu brides opt for bridesmaids. It is indeed a sight for sore eyes when so many beautiful ladies dressed similarly add to the charm of the bride.
So there you have it! 10 fabulous ways to rock your bridal look! Feel free to experiment with the trends mentioned here to form your personal bridal style. It is your day after all- make sure you make the most out of it!